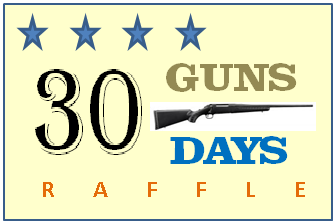 Raffle Tickets $40 each
Garland Crime Stoppers is having a 30 Guns in 30 Days Raffle.
Each ticket will enter you into the drawing for each of the 30 days
and is eligible to win any day that number is drawn.
The Texas Lottery Pick 3, each day Monday through Saturday, will be used to select winners.
All guns are new and worth $400 to $800 each.
We will announce the start of the Raffle after all tickets are sold.
BE SURE TO
ENTER YOUR NAME, PHONE NUMBER, AND EMAIL WHEN YOU USE PAY PAL
SO WE CAN MAKE ARRANGEMENTS TO SEND YOUR TICKETS TO YOU!
Here are a few of the guns being raffled:
Glock 43 9 mm $500 Value
S&W Shield 9 mm $500 Value
Taurus Judge Blue 3 inch 45/410 $450 Value
Remington 700 adl combo w/s 3-9 300 win $500 Value
Mossberg 20 ga shockwave shotgun $400 Value
Beretta a 300 wood 12 ga $800 Value
Colt 1911 government $700 Value
To purchase tickets with cash or check,
contact Angela McKee at 214-402-6493 or AngeKMc@aol.com
MUST BE 21 YEARS OF AGE TO PURCHASE TICKETS. ALL STATE AND FEDERAL LAWS APPLY.
MUST BE A TEXAS RESIDENT. MUST BE ABLE TO PASS A BACKGROUND CHECK.